Riesling Without Fear
The darling of Sommeliers due to it's versatility in style and tremendous food pairing potential, Riesling has become a popular pick at the wine store and restaurant.
Riesling is a mystery to most wine enthusiasts. It is a great chameleon, successfully grown in cold, warm, hot climates and is very good in extra dry, medium dry, late harvest sweet styles. This versatility is due to the grape's tendency to have a great acid/fruit balance.
Choose from one of the following to pair with your spicy foods, your cheese plate, fried chicken, dishes with rich creamy sauces, or desserts –
Very Dry:
From South Australia, Rieslings are dry with apple, lime and diesel fuel. Pair them with your fried chicken, salty hard cheeses and charcuterie.
Medium Dry – full bodied:
From the Alsace region of France, this wine has a lot of mineral flavor along with lemons, limes and green apple. You will not taste sugar in this wine. It pairs wonderfully with rich dishes with creamy sauces, sausages and sauerkraut, or even your Thai takeout.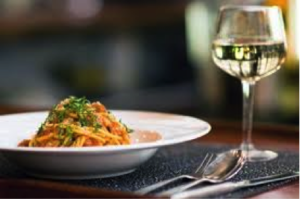 From Germany, wines labeled as 'Trocken', are dry and rich wines that still have a good balance of acidity and display a great deal of petroleum/slate flavor mixed with stone fruits. Another must for pairing with the Chinese food or grilled white meats.
Don't Forget the USA!
Rieslings from the Finger Lakes region of New York can be tasty and affordable. These usually are a bit sweeter than wines from Germany or Alsace, but do display the minerality of the grape and have a nice 'cool climate' acidity.
Sweet – full bodied:
Riesling is a perfect grape for late harvest dessert wines. Sugar may increase with various methods of wine production, but the great acid still remains.
Try German wines labeled as 'Spatlese' or 'Auslese'. These are both sweet late harvest wines which go with your 'not too sweet' Apple Tart or Autumn Fruit Crisps. Remember, for dessert pairing, the wine must be sweeter than the food!