The Joy of Wine
Online Wine Education for Enthusiasts
Membership
We'd love for you to join our membership community!  By becoming a member, you are connecting with others who have a passion for wine and food. Membership gives you access to insider information and help you up your wine knowledge:
Free
Joie de Vin provides open access to everyone to:
Blog posts
Articles
Wine News
Wine Tastings - $25 
Online Wine Courses - $20 per class
Enthusiasts
The Enthusiast membership level includes:
Unlimited access to our SommSuccess® classes
Monthly Online Wine Tastings
Advice articles
Ask the Expert interactive dialog
Wine travel information including discounts on custom trips to some of the world's best wine regions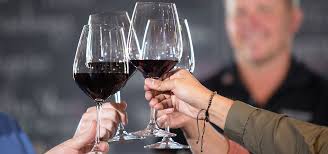 Testimonials
Here's what some of our consistent wine tasters recently told us:
"I can recommend wines to strangers in the liquor store"
I was standing in front of the wine section at the grocery store when the man next to me said, "Hey, do you know anything about wine?" After a moment's hesitation, I thought - yes, yes I do! So I said it. "Yes, I do. What are you looking for?"
I was able to send him on his way with a yummy cab sav for less than $10 -- and I realized how much I have learned at Joie de Vin's Virtual Wine Tastings!  Then I grabbed the New York State Riesling and went on my merry way. Good wines to be found in lots of places!
Dawn
"Never before have I received so much value from one website!"
I signed up for the monthly membership thinking, 'what have I got to lose?'. And what I discovered was a wine lover's paradise!
I love the online courses, and can't wait to join the next virtual wine tasting. I learn something new every day from this membership!
Eric
Want to up your wine knowledge?
 Sign up for our online wine courses
and learn at your own pace.
Engage experts and enthusiasts in an ongoing, ever-developing conversation about the world of wine. Got a question? Find answers here.
You've got questions… We've got Answers.
We love helping wine lovers learn more about their passion. Here we have assembled several answers to the most commonly asked questions. But if we haven't covered yours… please feel free to contact us.
Do I have to become a member?
Membership is not required to access many of the value-laden benefits of Joie De Vin. Many people enjoy our blog, wine news, wine travel trip announcements, and access to our Facebook group, all provided free of charge.
What does the online course cover?
We offer two levels of learning via our online courses. One is perfect for the home enthusiast who wants to increase their practical knowledge when it comes to purchasing, serving, storing and consuming their favorite fermented beverage. Our SommSuccess® Advanced Courses offer in depth coverage of wine making, wine grapes, wine regions, how to taste and serve wine, wine & food pairing and much more.